Biotech Daily covers the major announcements from more than 140 ASX-listed biotech companies as well as research institutes and developments in government policy.
Published shortly after the stock market closes five days a week - excluding public holidays - Biotech Daily is the only comprehensive daily source of information on the listed biotechnology sector.
The Biotech Daily Top 40 Index (BDI-40) is selected on the basis of interesting technologies, benefit to human health and investment potential. Market capitalization is important, but is not a sole arbiter.
Base-rate subscriptions are $A1600 a year (including GST in Australia).
Subscribers include biotech directors and CEOs, major pharmaceutical companies, universities, research institutes, investment houses, market analysts, retail investors, doctors, medical specialists and hospital management.
Download subscription form here
Latest News !

Vale Bioshares David Blake (1.3.1963 - 18.11.2021)
Dr Boreham's Crucible: Mesoblast
Dr Boreham's Crucible Takes A Trip Through The Psychedelics
Clarity $92m IPO For Cancer Radio-Pharmaceuticals
Victoria: 'Funding Returns 366% GSP, 454% Income In 10 Years'
A Year In The Grass - Medical Marijuana Review
Biotech Daily 1st Medical Marijuana Survey
CSIRO, Doherty Distance From 'Tier 1' Sars-Cov-2 Claims
---
November BDI-40 Up 1%, ASX200 Down 1%
Big Caps Up 1%, NBI Down 4%
Wednesday December 1, 2021
Despite the roller coaster ride at the end of November, both the Biotech Daily Top-40 Index (BDI-40) and the three Big Caps closed the month just below their record highs.
The benchmark ASX200 fell 0.9 percent and the Nasdaq Biotechnology Index (NBI) fell 4.0 percent.
The collective market capitalization of the three Big Caps of Cochlear, CSL and Resmed (which are not included in the BDI-40) climbed 0.6 percent in November to $206,981 million, propped-up by CSL climbing 2.3 percent to $139,795 million, while Cochlear fell 4.4 percent to $14,326 million and Resmed was down 2.4 percent to $52,860 million.
For the year to November 30, the BDI-40 climbed 24.6 percent, the ASX200 was up 11.3 percent, the Big Caps rose 17.5 percent and the NBI was up 5.2 percent. The 22 companies in Cannabis Corner were up 33.9 percent for the year (see below).
November showed the value of a diverse portfolio. While Cochlear and Resmed fell, CSL held up the Three Big Caps.
Just 10 of the BDI-40 companies were up, with five up by more than 10 percent, while 29 fell, five by more than 20 percent and 13 by more than 10 percent.
But a 14.3 percent increase by Pro Medicus to $6,522 million and Imugene up 14.9 percent to $3,139 million counter-balanced all the large, modest and small falls.
Universal Biosensors was November's best, up 18.9 percent to $157 million, followed by Imugene and Proteomics, both up 14.9 percent, followed by Pro Medicus (14.3%), Telix (11.1%), Impedimed (9.0%), Amplia (8.0%), Paradigm (7.7%), Mesoblast (7.0%) and Starpharma (1.4%).
Clinuvel led the falls from a near record high, down $483 million or 25.4 percent to $1,422 million, followed by Osprey (24.0%), Polynovo (22.5%), Ellex (21.7%), Antisense (20.1%), LBT (18.1%), Immutep (16.6%), Cynata (14.8%), Alterity (14.3%), Prescient (13.3%), Optiscan (12.3%), Compumedics (11.6%) and Avita (11.5%).
Outside the BDI-40, Aroa Biosurgery and Rhythm Biosciences were at 12-month highs, with IDT, Micro-X, Race Oncology and Trajan holding steady.
The collective market capitalization of the 22 companies in Cannabis Corner was up 7.5 percent in November to $1,941 million, with just five up, 14 down and three unchanged; but Incannex added $200 million or 40.9 percent to $689 million, with Cronos jumping $19 million or 237.5 percent and Emyria up $42 million or 110.5 percent - countering all the falls.
On the Nasdaq, Eyepoint (formerly Psivida) climbed 71.3 percent to $752 million, Queensland's Protagonist was up 14.3 percent to $2,252 million, but Redhill, with Australian assets, lost 37.6 percent to $211 million.
BDI-40 v S&P ASX200 Jun 30, 2006 to Nov 30, 2021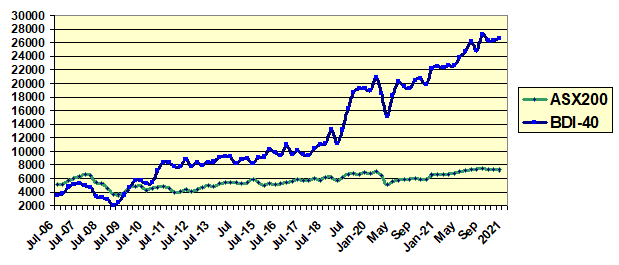 5-Year Big Caps (Cochlear, CSL, Resmed) to Nov 30, 2021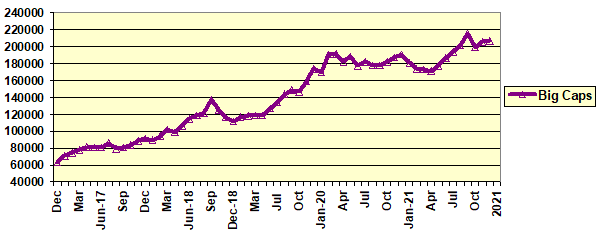 BDI-40 ($m) v S&P ASX200 – Jan 31, 2020 - Nov 30, 2021
(current, raw data)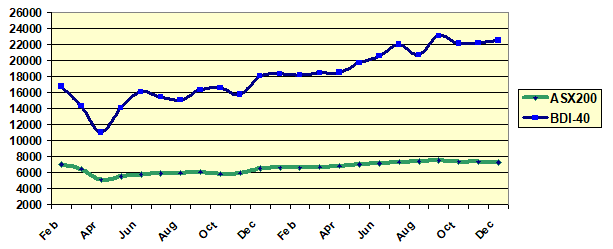 Biotech Daily Top 40 With Market Capitalization At Nov 30, 2021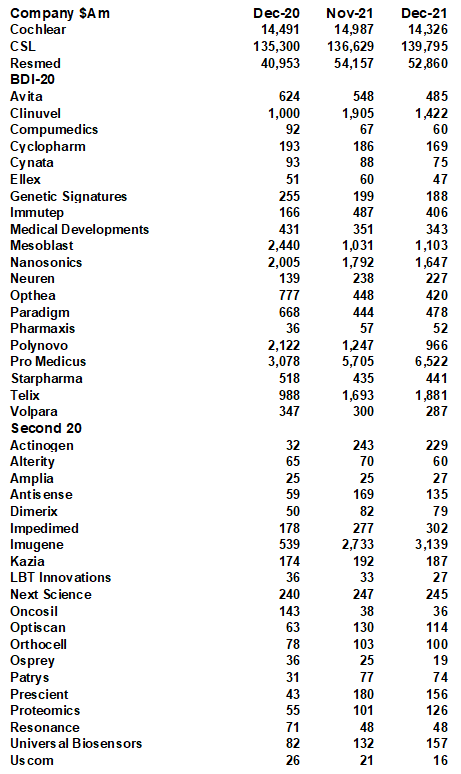 Biotech Daily editor, David Langsam, owns shares in Acrux, Actinogen, Alcidion, Alterity, Amplia
BTC Health, Clarity, Cochlear, Control Bionics, Cynata, Nanosonics, Neuren, Patrys, Polynovo
Telix and Volpara, as well as non-biotechnology stocks.
Through Australian Ethical Superannuation he has an indirect interest in a range of biotechnology companies. These holdings are liable to change:
https://www.australianethical.com.au/personal/ethical-investing/companies-we-invest-in/.