Biotech Daily covers the major announcements from more than 140 ASX-listed biotech companies as well as research institutes and developments in government policy.
Published shortly after the stock market closes five days a week - excluding public holidays - Biotech Daily is the only comprehensive daily source of information on the listed biotechnology sector.
The Biotech Daily Top 40 Index (BDI-40) is selected on the basis of interesting technologies, benefit to human health and investment potential. Market capitalization is important, but is not a sole arbiter.
Base-rate subscriptions are $A1750 a year (including GST in Australia).
Subscribers include biotech directors and CEOs, major pharmaceutical companies, universities, research institutes, investment houses, market analysts, retail investors, doctors, medical specialists and hospital management.
Download subscription form here
Latest News !

Another Year In The Grass - With Shrooms & E
Neuren: 'Acadia Phase III Trofinetide Rett Success' - Up 109%
Dr Boreham's Crucible: Imagion
Vale Bioshares David Blake (1.3.1963 - 18.11.2021)
Dr Boreham's Crucible Takes A Trip Through The Psychedelics
CSIRO, Doherty Distance From 'Tier 1' Sars-Cov-2 Claims
---
2021: BDI-40 Up 23%, Big Caps Up 14%
ASX200 Up 13%, NBI Down 0.6%

Actinogen Up 847%, Imugene 387%, Prescient 249%; Oncosil Down 63%, Polynovo 61%
Monday January 3, 2022
The Biotech Daily Top-40 Index (BDI-40) climbed 0.1 percent in December to close the year up 22.7 percent to a collective market capitalization of $22,522 million.
The benchmark S&P ASX200 was up 2.6 percent for December and 13.0 percent for the year, the three Big Caps of Cochlear, CSL and Resmed (which are not included in the BDI-40) slipped 0.1 percent in December but were up 14.3 percent the year, while in the US, the Nasdaq Biotechnology Index (NBI) closed 2021 down 0.6 percent.
Resmed ended the year up 32.0 percent at $52,309 million, Cochlear climbed 15.9 percent to $14,405 million, with CSL up 8.7 percent to $140,034 million.
Twenty of the BDI-40 stocks were up in 2021, with 19 up more than 10 percent and seven up by more than 100 percent; while 20 fell, with 19 down more than 10 percent and three down by more than 50 percent.
It was a tale of two indices - with the BDI-20 boasting just six rises and 14 falls, while the Second 20 was the reverse with 14 rises and six falls.
Actinogen was the best of the BDI-40 in 2021, up 846.7 percent to $284 million, from a low base of $30 million.
Imugene felt the impact of gravity in December falling $833 million or 26.5 percent for the month, but still coming second for the year up 386.5 percent to $2,306 million. The fall was mostly offset by Nanosonics and Telix climbing more than $280 million each in December. Imugene was followed up for the year by Prescient (248.8%), Neuren (223.1%), Impedimed (130.4%), Universal Biosensors (128.6%), Telix (104.2%), Pro Medicus (84.5%), Patrys (76.7%), Optiscan (76.2%) and Antisense (73.3%).
Oncosil led the falls, down 63.3 percent to $36 million, followed by Polynovo (60.9%), Osprey (55.6%), Resonance (39.3%), Mesoblast (33.3%), Volpara (27.2%), Opthea (26.1%), Compumedics (25.8%), Paradigm (25.2%) and Cyclopharm (23.9%).
Cannabis Corner edged up 1.6 percent in December, driven by Cronos and Incannex offsetting falls by 14 of the 22 companies, but up 18.9 percent from a low end to 2020.
On the Nasdaq, Eyepoint (formerly Psivida) climbed 342.6 percent to $571 million and Queensland's Protagonist ended the year up 99.6 percent at $2,247 million, while Israel's Redhill, with Australian assets, fell 53.7 percent to $183 million.
BDI-40 v S&P ASX200 Jun 30, 2006 to Dec 31, 2021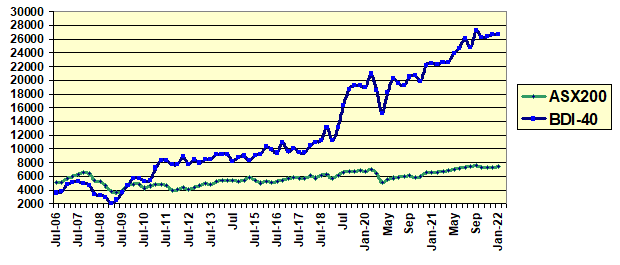 5-Year Big Caps (Cochlear, CSL, Resmed) to Dec 31, 2021

BDI-40 ($m) v S&P ASX200 – Dec 31, 2019 - Dec 31, 2021
(current, raw data)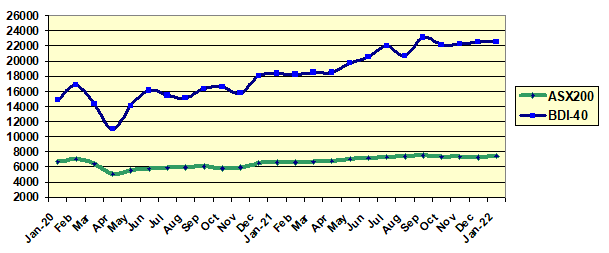 Biotech Daily Top 40 With Market Capitalization At Dec 31, 2021
(Updated January 17, 2022)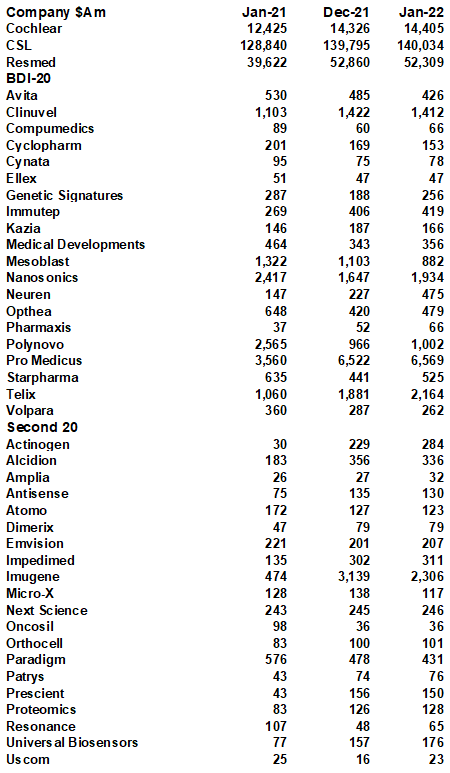 Biotech Daily editor, David Langsam, owns shares in Acrux, Actinogen, Alcidion, Alterity, Amplia, BTC Health, Clarity, Cochlear, Control Bionics, Cynata, Nanosonics, Neuren, Patrys, Polynovo, Telix and Volpara, as well as non-biotechnology stocks.
Through Australian Ethical Superannuation he has an indirect interest in a range of biotechnology companies. These holdings are liable to change:
https://www.australianethical.com.au/personal/ethical-investing/companies-we-invest-in/.